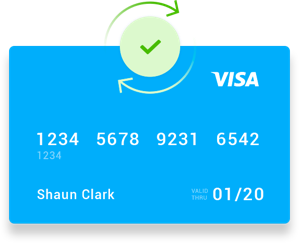 Disputed Payments
Disputed payments, such as chargebacks, incur a fee. All PayCafe merchants have unlimited access to our dispute system which helps reduce time and effort responding to disputes, while improving your dispute win rate and saving you money!

Frequently Asked Questions
How do I get my data over?
It's easy to import customers, products, images and variations into your PayCafe account. We can even help you transfer your payment details in a PCI Level-1 compliant way. Once your account is active, one of our specialists will help you get everything setup.
Can I use my own domain name?
Absolutely. If you haven't purchased a domain name, you can buy one through us. If you already have a domain name, we'll help you set it up to use with PayCafe.
Is my data safe and secure?
The security and uptime of your credit card processing platform is our top priority. We protect everything with military-grade security and encryption that the big banks use, and we have a 99.99% average uptime.
Do I need my own SSL certificate?
All PayCafe merchants receive a complimentary 128-bit SSL certificate and sitewide HTTPS. No need for any additional security; we have everything covered.
Speak to a consultant
We use the motto "one size fits most" and your needs may not be the same as others. We can tailor our system to your unique needs and together we can design the best integration method for your business.
During your entire journey we will be available through email, over chat, or on the phone 24 hours a day.